a Complete Video Membership Word press Solution, In this specific solution , you can create your own videos for different kinds, you can then put out your own website and put them behind a membership plans, it can be yearly plan, monthly plan, quarterly plan and then you can actually generate a recurring passive income business model without you having do actively work to get some revenue and generate revenue that you want to do in your own business.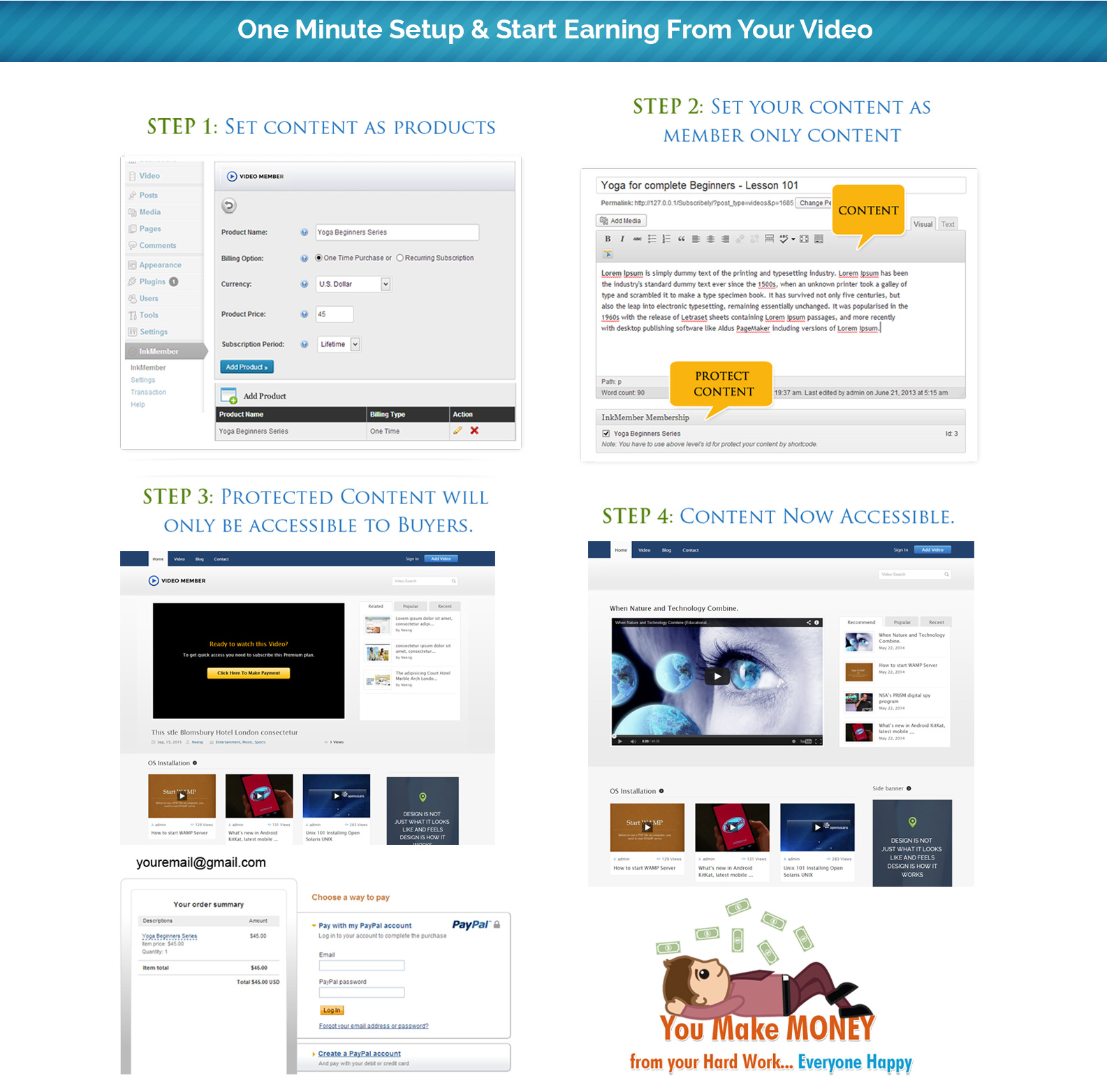 So, this specific solution allows you to create video site on any specific niche which could be based on your passion. So as I said earlier, you can be yoga instructor shoots some video and put them your website etc, using this specific solution. Once the content is on your website, you can actually start to sell video membership to generate revenue. You can create a multiple membership subscription plans, this solution allows you to get multiple membership subscription plans. One fantastic things with this solution is that you can actually put out some introduction video for entirely free. So anyone who comes over to your website will actually see a valuable content first, they can access few of the content and then you can put out some up sell content behind membership and then you can start to generate revenue out of it. This specific solution also supports one time & recurring payments. You can just do anything according to your requirements for any specific course types. We definitely recommend you to build a recurring business model out of it. So this specific solution also supports recurring payments. So if you do not want to charge one time having payment of like $297, you can actually put out into a monthly membership plans like $25 per months or might be $35 a month or it may be $45 a month. Again, this solution supports payments using different different currency type. So if you want to collect payment in NewZealand dollars, Canadian dollars or any just about any specific type of currency, you can do that as well. So again this specific solution supports paypal, so you have a facility to collect instant payment into the paypal account in every single currency that is supported by paypal would actually supported as well. So doesn't matter where you live, you have the facility to sell video membership in just about any country that you are in. This specific solution completely multi lingal as well. So if you want to translate the entire solution into your own website, you want have it in French , German etc. you can easily do that without any issues.
Other than that, it includes a complete video and customer management modules in this specific solutions that means if you want to put out your own video into any specific categories, edit the videos and put into different course or if you want to manage anything related to videos, you can do that easily using this specific system. At the same time it includes customer management system as well. With customer management you can easily track every single payment that is done to you. When subscription plan is going to expired, all those criteria and all those things you can see using the customer management system that is embedded into the specific video word press solution. Multiple author can actually register to your websites and they can actually upload their own content type. Then you can easily sort the contents, you can put them into specific course without you having to get any trouble or something, you can do that very very easily by using this specific solution. So if you are single video producer, you can actually start to sell your own courses as well, if you are multi author blog you can actually start to sell and deploy multiple authors on your website as well. So this is really one cool feature which this specific solution provides.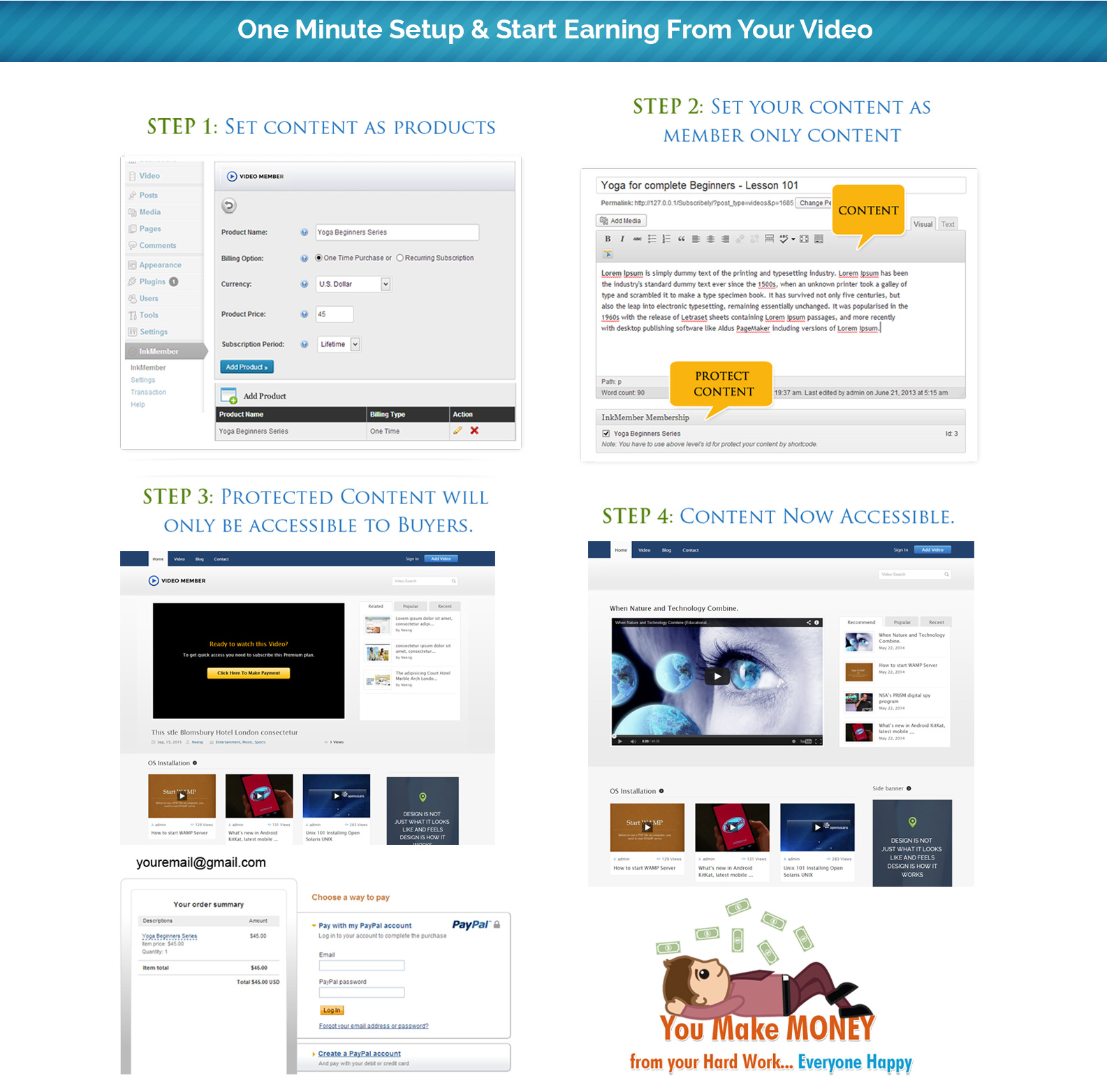 Other than that one important need in any specific solution for membership is pricing table module. Everyone wants to create a membership plans and then want to display then elegantly on the front end of their website. I have seen lots of lot solution which allows to create a membership plans but they do not have a perfect module which creates some beautiful looking pricing table on their website. So this specific solution is capable to create elegant looking pricing table according to your needs and then you can integrated into your website to show the different different plans to your customers which customers can actually see and they can purchase the plan easily and without any issues. So this is really a complete word press solution for video membership. I am pretty sure once you get that you will definitely use it to build your own next recurring passive empire. But once you do that you be 100% sure that you would be able to generate a recurring passive income in your system that no another has. So thanks for watching.